Oakwood's inspired design and engineering teams take technology in new directions to deliver high-performing products that can soften an impact, boost a brand and more.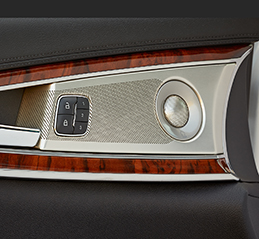 Speaker Grilles
for audio that looks as good as it sounds
Oakwood is the world's number one automotive metal grille supplier with unique capabilities to execute intricate metal audio cover designs for automotive applications. Our team delivers all you need to enhance your customer's audio experience and add distinction to your brand. As you integrate audio speakers into your interior design, Oakwood gives you three exciting ways to dress your brand.
Oakwood speaker grilles lead the industry in quality and sound transmission. State-of-the-art designs blending texture, color and form enhance the visual appearance of automotive interiors. Whether your requirements call for perforated metal or expanded metal, Oakwood's full service capabilities take your project from concept to completion.
---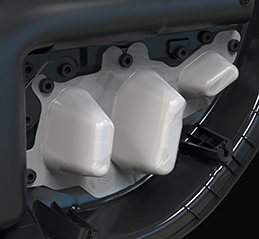 Energy Absorbers
that soften the impact
The Oakwood Group is the number one supplier of automotive energy management technologies in the world. Our thermo-formed SafetyPlastic® impact absorbers outperform and are more cost effective than all other countermeasures including foam and injection molding. Current automotive applications include overhead impact, side impact, and pedestrian impact, skillfully engineered by our team of experts.
Our technology has also been successfully applied as shock proof flooring and seating in military vehicles and sporting applications including making lacrosse helmets safer. These product developments represent diversification and serve a valuable purpose in protecting the lives of our country's military personnel and athletes.
SafetyPlastic excels in meeting all OEM requirements while reducing the price of safety countermeasures.
---
Expert in Automotive Protection
Head impact
Side impact
Pedestrian impact
Added Benefits
Sustainable technology
20%+ mass reduction
Parts nest for 90% less space
Market Leader
56 million parts annually
99 vehicle programs
700+ applications
60% impact market share
Global Capabilities
USA
South Korea
China
Japan
Germany
Cost – Efficient
Out performs foam and injection molding
20% less than other technologies
Efficient square wave FD curve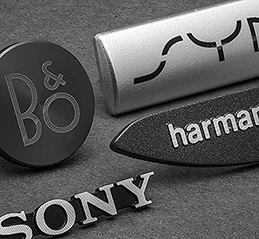 Badging
for brand impact
In complement to our audio cover technology, Oakwood's line of decorative badges and logos can help you accurately and aesthetically present your name and logo. Our design and engineering teams provide expert design assistance to achieve the desired look along with innovative attachment concepts. Our proprietary manufacturing process produces the most intricate badges in the automotive industry.
Oakwood has been designated the preferred supplier of B&O Play, Sony and Microsoft Sync® badges for North American automotive applications.
---
Comprehensive Branding
Interior components
Audio components
Technology component
Independent Logos
Backlit
Etched
Diamond cut
Injection molded
Logos for Audio Covers
Fully integrated
Photo chemical etched
Engraved
Anodized